One way to reach more subscribers to your mailings is to post a link to your Sign Up form on your website. You can do this in several different ways. Either you simply add a link to the form, or you can create a small form with mailRelates form tool that you then place on your website.
Link to the form:
Click on Forms
Copy the link found by Sign up URL, it's in the box at the top of your registration form.
Add the URL to your website.
Create a small form/box on website:
You can create a box that you can publish on your website, where new subscribers can register to your mailing list, in a clear and easy way. This is a simple and good way for you to capture more subscribers to your mailing. If they visit your website, there is also a chance that they want to know more about you and your products / services via email.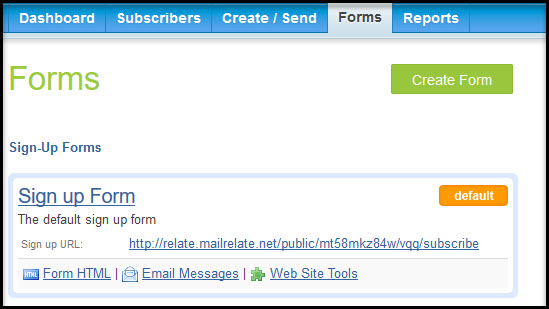 Click on Forms.
In the box for your application form, click Web Site Tools.
We recommend the last feature on the page: Box
There you have the opportunity to generate the code that you need to add to your website, while also allowing you to influence what's in the box, its size and colors.
Box text: fill in a heading for the form
Click Generate
Now the HTML code is created that you can copy and paste, customize its appearance and text and then publish on your website.
If you have more requirements than the e-mail address to be registered with a Sign Up, your regular form will be displayed when the signatory clicks the button to send away their notification. Now he / she can fill in the remaining mandatory information.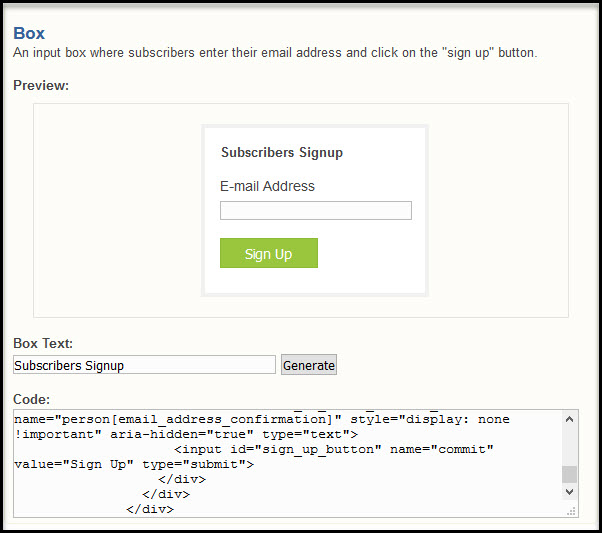 For support:
You can also contact our support and ask for help with this if you are unsure!