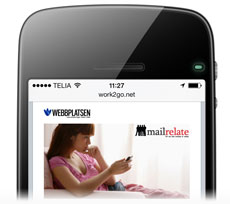 Adaptive templates for all displays
Since all of us have become more mobile than ever, it is now a necessity to use templates with responsive design that automatically adapt to the reader's screen size. On your account there is a variety of ready-made mobile adapted templates to choose from. Take a look at a sample of the templates here.
It's easy to send newsletters
Import your address list.
Choose a template.
Add your content.
Schedule or send it.
mailRelate allows you to focus your marketing resources on the message, rather than the method. Leave the rest to us and we'll have your newsletters delivered reliably, safely and hassle free. More about safe and hassle-free deliveries
Emails that ends up in the inbox

not

in the spam folder

The strength of mailRelate is the strict control of all emails sent out by the service. This control protects you as the sender from the risk of emails ending up in the recipient's spam folder instead of their inbox. Learn more about mailRelates anti-spam policy.