You don't need any knowledge of design or html to create great newsletters.
Choose from hundreds of professionally designed templates, whose layout you can edit by adding or to drag and drop several different content blocks.
Drag and drop images, paste your text and change its format just as you're used to do in a text editor.
Manage images – easy upload and storage or use images from the added image bank by Flickr.
Make it personal – include your recipient´s name in the subject line or message.
Use your own design by importing it into your account.
Edit as needed – our HTML editor makes it easy to adjust your content.
Video in your email widget with a pop-up call to action.
Organize your newsletters by tagging them with labels.
Send newsletters in multiple languages with UTF-8 character support.
Social Networking Bar on emails – your followers can easily read, like, re-tweet and share your messages on Facebook, Twitter, LinkedIn, etc.
Let your subscribers forward your newsletters to their friends with a single click.
A sample of templates included on your account
Here are some of the templates that are available on your account as soon as you have logged in. There are hundreds of templates for you to choose from and more are added continually. Templates suitable for annual holidays, events, invitations, newsletters, promotions, etc., but also basic templates that easily can be adapted with your own brand.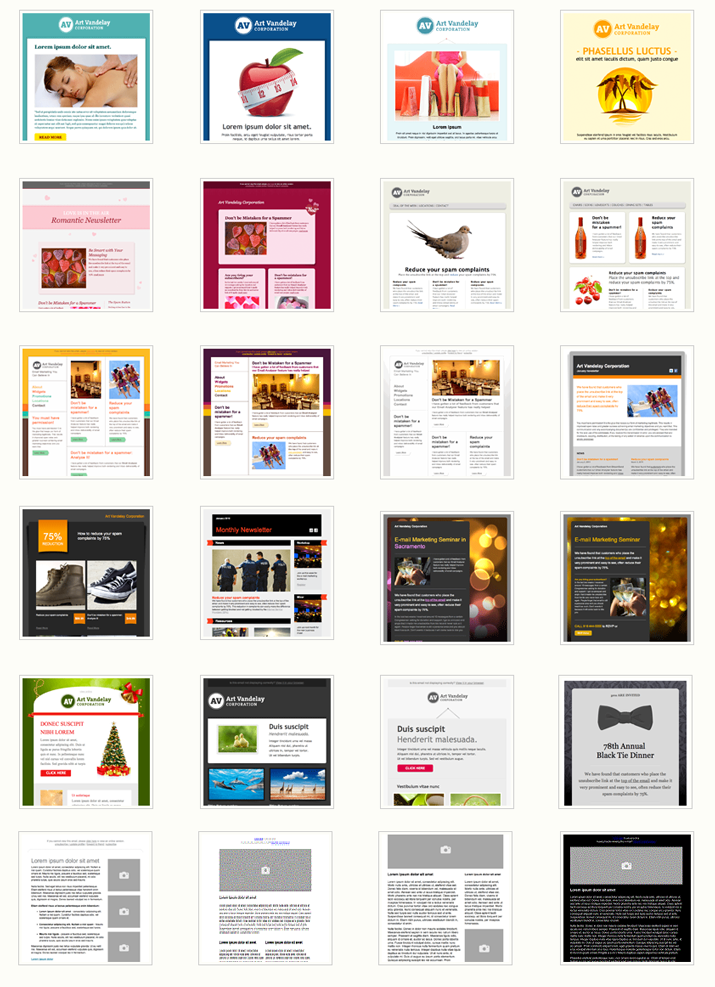 Mobile-ready templates with responsive design
Here are some of our mobile-ready templates, built with responsive design. Templates that automatically rescale for mobiles and tablets screen size. All templates are complementary to your account and more are added gradually.
It's also possible to order a customised template.