A subscription confirmation email is an email that is sent out to new subscribers in order to confirm that they want to subscribe to your list.
When you created your account, a confirmation email is already setup to be sent to any subscriber who signs up by using a form.
It includes:
A request to confirm the subscription
Your list's default name
A confirmation link that members must click to be added to your list
An auto opt-out message explaining what happens if they don't click the link.
Important: The subscriber will not be added to your list until they have clicked on the link.
If you are testing your form and do not receive this email in your inbox, check your spam or junk mail.
The email that is set up in your account when you created it looks something like:

As long as this confirmation email remains active, your list will remain in confirmed status. Why is this important?
Editing the subscription confirmation email
---
If you wish to edit this email, access your contact list and click on Manage Emails on the left hand menu.
Under Subscription Confirmation Email you will see the option to preview and edit both HTML and text versions.
What should be in the confirmation email?
---
The [CONFIRM_LINK] must be in the confirmation email !
This is what will create the unique confirmation link that enables your contacts to confirm their subscription! Your contacts must click on it in order to be added to your list.
Say "Thank you": when they'll click on the link, your subscribers are confirming that they want you in the inbox.
Remind them where they signed up: give your website's URL, your company name and a brief description of what you do
Tease them: give them a short (one-sentence) description of the content they can expect to see from the emails you'll send them
Re-introduce yourself: show the email that will be sending the emails and ask to be added to their safe-senders or to their contact list
Tell them how frequently the can expect to hear from you: stick to your deadlines; if you have a very creative week and you've prepared lots of great emails schedule them so your subscribers will get them at the promised frequency
Reassure them: remind them that they can unsubscribe at any time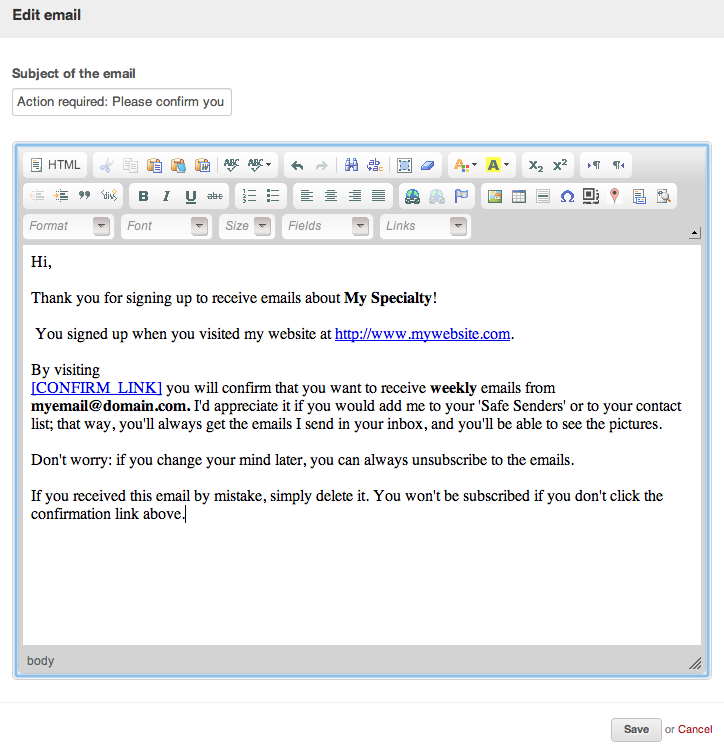 Note: Confirmation emails cannot be modified in trial accounts.